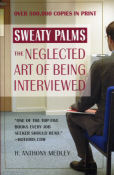 What REALLY goes on in a job interview? Find out in the new revision of "Sweaty Palms: The Neglected Art of Being Interviewed" by Tony Medley, updated for the world of the Internet . Over 500,000 copies in print and the only book on the job interview written by an experienced interviewer, one who has conducted thousands of interviews. This is the truth, not the ivory tower speculations of those who write but have no actual experience. "One of the top five books every job seeker should read," says Hotjobs.com. Click the book to order. Now also available on Kindle.
Most Enjoyable & Most Disappointing of 2016
by Tony Medley
Here are my lists of the most enjoyable and least enjoyable/most disappointing/most overrated films I saw during 2016. The negative category includes some films that, while not the worst, were disappointing or overrated, or, while enjoyable, had huge flaws. The positive category is just how much I enjoyed them, not rated as I would rate an Oscar®-winner. The "Most Disappointing" are listed by rank of how much I loathed them with #1 the most loathsome. Both lists are shorter than normal because it was a relatively bland year except that my most enjoyable list contains lots of films that would stand out in any year.
Most enjoyable:
La La Land:

Not only the best of this year; maybe the best of the decade.

Eye in the Sky:

1948's "Command Decision" updated for the 21st Century with Helen Mirren playing Clark Gable's role, a tense tale of modern warfare.

Our Kind of Traitor:

An Eric Ambler-type thriller of an ordinary man caught in international intrigue highlighted by a boffo performance by Stellan Skarsgärd.

The Beatles: Eight Days A Week: The Touring Years:

Full of beautiful music and tales of The Beatles touring days with archival interviews with each of the Fab Four.

Harry Benson: Shoot First:

Fascinating documentary about a celebrity photographer known for his shots of The Beatles, but also many more, told by Harry himself and a myriad of others with anecdote after anecdote and unforgettable photos.

Patriot's Day:

Spectacular recreation of the Boston Marathon bombing. You may think you know what happened, but I was surprised.

Joan Rivers: Exit Laughing:

Joan and others tell her story, and it's a rollicking one. I can't give it more than a 10, but if I could, I would!

Passengers:

One of the better sci-fi films.

Café Society:

Woody Allen keeps getting better with age.

Elle:

Isabelle Huppert gives a tour de force in this "amoral" movie with a different view of an old subject.

Fastball:

A film that no baseball fan should miss, including film clips of people like Walter Johnson I had never seen before.

Maggie's Plan:

The script for this modern tale is witty and the acting very good.

Snowden:

if your mind is open and you haven't already prejudged Snowden, it's a very good film written and directed by Oliver Stone.

13 Hours: The Secret Soldiers of Benghazi:

Graphically captures all the gun fighting and the bombs, and the uncertainty of the fight because it was all done in the dark of night without really knowing what was going on and where the fighting was coming from. Worse, our guys kept expecting help that never came from the Obama Administration.

Denial:

Highlighted by a terrific performance by Timothy Spall, this is a good courtroom drama that happens to be true.

Diary of a Chambermaid:

They keep remaking this and this one is as good as the others, if not better.

The Girl on the Train:

Not as good as the book, but still very good, indeed, although it would have been a lot better had Jason Bateman played one of the key roles.

A Bigger Splash:

While not for everyone, I liked this stylish atmospheric tale of a rock singer and her extended family recuperating on the Italian volcanic island of Pantelleria.

Septembers of Shiraz:

A tense film that captures the terror and unfairness of life in Iran shortly after the Islamic extremists took over in 1979 by concentrating on one Jewish family.

Deepwater Horizon:

A real eye-opener with a great performance by John Malkovich (no surprise there) and some astounding special effects.
Most Disappointing:
Rules Don't Apply:

An embarrassment.

Jackie:

A disgrace.

Absolutely Fabulous:

Absolutely awful.

Neighbors 2: Sorority Rising:

One of the most disgusting, crude pieces of drivel ever committed to the silver screen. But if anyone could do it, Seth Rogen is the man.

Equity:

"…directed, written, produced, and financed by the women of Wall Street." I won't be investing in any of their IPOs.

Genius:

Stupid.

Deadpool:

Apparently meant as '70s TV PI James Rockford as a superhero, obviously aimed at the intellect of a 13 year old boy, but contains

egregiously violent torture scenes that are gratuitously offensive and bothersome, and should be unacceptable for viewing by a 13 year old boy

.

Kevin Hart:

What Now?: Hopefully, nothing.

The Meddler:

Susan Sarandon hits rock bottom and takes J.K. Simmons with her. Maybe she really is this annoying.

Miles Ahead:

With fans like director/star Don Cheadle, Miles Davis didn't need any enemies.

Ride Along 2:

As bad as the first one, which one would have thought impossible.

Suicide Squad:

This remake of The Dirty Dozen for the 21st Century doesn't say much for the 21st Century.

Mother's Day:

So bad even the laugh shills didn't laugh.

The Boss:

A personal note to Melissa McCarthy. Forget writing, directing, and producing. Let those be done by people with those talents. Stick with acting. That worked for Cary Grant and Irene Dunne and the other comedians of Hollywood past. It will work for you, too.

The Magnificent Seven:

You don't pull at Superman's cape.