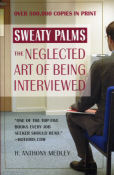 What REALLY goes on in a job interview? Find out in the new revision of "Sweaty Palms: The Neglected Art of Being Interviewed" by Tony Medley, updated for the world of the Internet . Over 500,000 copies in print and the only book on the job interview written by an experienced interviewer, one who has conducted thousands of interviews. This is the truth, not the ivory tower speculations of those who write but have no actual experience. "One of the top five books every job seeker should read," says Hotjobs.com. Click the book to order. Now also available on Kindle.
Pitch Perfect 2 (8/10)
by Tony Medley
Runtime 116 minutes.
OK for children.
Highlighted by outstanding production values and upbeat, entertaining music, this sequel far outpaces the original. Much to my surprise (I loathed the first one in 2012, rating it 1/10, even though it was a surprise hit), mainly due to the music and choreography it overcomes a silly script (Kay Cannon) with annoying lines, characters, and relationships aimed mainly, I can only surmise, at teenaged girls.
There are some funny bits with fine repartee between announcers Gail (director Elizabeth Banks, who also produced) and John Smith (John Michael Higgins), who go where most fear to tread with their un-PC comments.
The Barden Bellas of Barden College have won three titles in a row, but run into trouble and are given one last chance to compete in the World Championships (there are championships for a cappella, but nothing like shown here which looks like a rock concert with 10,000 screaming fans). Although led by Beca (Anna Kendrick), joining them is newcomer Emily (Hailee Steinfeld), who fits right in. Giving an exceptional supporting performance is Keegan-Michael Key as Beca's boss, a big time music producer.
But the story and the characters and everything else in this film take a back seat to the music and production numbers which are enough to wow any audience. If there's a tip, stay for the end credits.