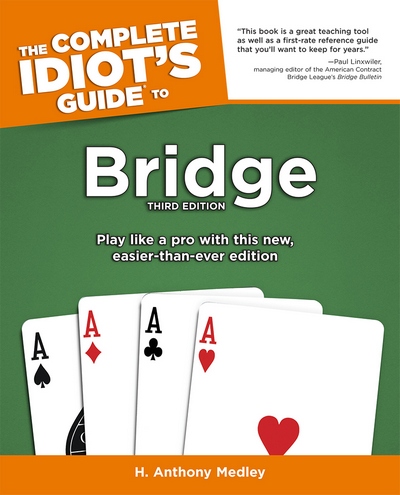 The first and second editions of Complete Idiot's Guide to Bridge by H. Anthony Medley comprised the fastest selling beginning bridge book, going through more than 10 printings. This updated Third Edition includes a detailed Guide to Bids and Responses, along with the most detailed, 12-page Glossary ever published, as well as examples to make learning the game even easier. Click book to order. Available in all bookstores and on Kindle.
Sex Tape (0/10)
by Tony Medley
Runtime 98 minutes.
Not for children.
This has a promising premise. A married couple, Jay (Jason Segel) and Annie (Cameron Diaz), bored with the sex in their marriage, decide to make a sex tape to instill some vibrancy into their sex. Although she tells him to erase it, he doesn't, and it gets out and is on the cusp of going viral. So they set out to get it back and off the server.
Alas, a comedy like this requires several things. The first is a good, intelligent script. This one is written by Kate Angelo (who gets story credit), Segel & Nicholas Stoller. Strike one. They start out with Annie ending a sentence with "…for Jay and I," indicating that either they are functionally illiterate or want us to think that Annie is. Worse (but not surprising given that Segel is a protégé of Judd Apatow and Stoller is responsible for the unfunny Neighbors earlier this year), they fill the script with F-bombs and dialogue and sexual incidents that are too silly to be considered childish. The second is good directing. Strike Two. This one is directed by Jake Kasdan, another Apatow acolyte, so you begin to get the drift of this film. Like Judd, his idea of comedy is to use vulgar language and situations that are more puerile than funny. He has virtually no sense of pace. The third is good actors. Strike Three. Segel and Diaz simply are not up to the job. This story required the subtlety of a Cary Grant and Irene Dunne. Segal and Diaz have about as much subtlety as an atomic bomb. Still, there were some scenes, like one where Diaz snorts coke and is affected by it, where an accomplished comedic actress could have had a field day. Segel's confrontation with an attack dog is equally ineffective.
Then there is the nudity. Even though there's a lot of it, it's not the least bit sexy, concentrating on shots of people's bums, most of which are Segel's. It's not funny or entertaining to see Segel walk away from the camera naked. It's disgusting, which sums up this tasteless movie.
July 14, 2014