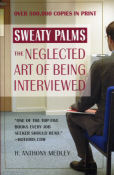 What REALLY goes on in a job interview? Find out in the new revision of "Sweaty Palms: The Neglected Art of Being Interviewed" by Tony Medley, updated for the world of the Internet . Over 500,000 copies in print and the only book on the job interview written by an experienced interviewer, one who has conducted thousands of interviews. This is the truth, not the ivory tower speculations of those who write but have no actual experience. "One of the top five books every job seeker should read," says Hotjobs.com. Click the book to order. Now also available on Kindle.
Rob the Mob (8/10)
by Tony Medley
Runtime 104 minutes.
Not for children.
This is a terrifically-acted, well-paced mob comedy, based on a true story, up until about the last 15 minutes when it loses all its pace and slows down to a plodathon, complete with Johnny Mathis wailing Dream, Dream, Dream (a little known 1964 waltz) under a maudlin montage of shots that almost completely destroys what came before.
While this continues the old Hollywood tradition of picturing the mafia as a bunch of loveable, doddering, laughable codgers, it was anything but. Still, Michael Pitt, as Tommy, and Nina Arianda, as Rosie, portray a couple of goofy kids in 1991 who pick on the mobsters by holding them up in clumsy, but effective armed robberies. The holdups are interspersed with Pitt and Arianda's love affair and a journalist, Cardozo (Ray Romano), who tries to turn them into a 1990s Bonnie and Clyde.
The Hollywood tradition holds firm by picturing the mob boss, Big Al (Andy Garcia), as a gentle grandfather who spends his time teaching his grandson how to cook. Director Raymond de Felitta gets great performances by Pitt and Arianda, along with fine supporting performances by the entire case, especially by Cathy Moriarty playing Tommy's mother.
All in all this is a highly entertaining film. De Felitta keeps the pace moving throughout except for the dismal last act.
January 30, 2014