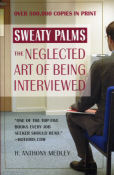 What REALLY goes on in a job interview? Find out in the new revision of "Sweaty Palms: The Neglected Art of Being Interviewed" by Tony Medley, updated for the world of the Internet . Over 500,000 copies in print and the only book on the job interview written by an experienced interviewer, one who has conducted thousands of interviews. This is the truth, not the ivory tower speculations of those who write but have no actual experience. "One of the top five books every job seeker should read," says Hotjobs.com. Click the book to order. Now also available on Kindle.
Le Chef (8/10)
by Tony Medley
Runtime 85 minutes.
OK for children.
Writer (with Olivier Dazat) director Daniel Cohen takes a simple tale of a Three Star chef, Alexandre Lagarde (Jean Reno) who is in danger of losing a star and, therefore, his acclaimed restaurant and a self-taught, aspiring chef, Jacky (MichaŽl Young) who joins with Lagarde with each helping the other and turns it into a fine, rewarding farce.
One of the delights of the film is Jackyís pregnant girlfriend, Beatrice, played by RaphaŽlle Agogue, one of the most beautiful actresses one could hope to see. But the film belongs to Young who gives what amounts to a tour-de-force as the ambitious, perfectionist chef. His scene with Lagarde when they invade a competitorís restaurant dressed as a Japanese and his geisha works because of Youngís performance and his makeup which makes him perfectly believable as a geisha. In French, Spanish, Japanese, and English.