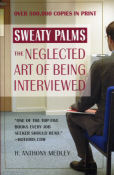 What REALLY goes on in a job interview? Find out in the new revision of "Sweaty Palms: The Neglected Art of Being Interviewed" (Warner Books) by Tony Medley, updated for the world of the Internet . Over 500,000 copies in print and the only book on the job interview written by an experienced interviewer, one who has conducted thousands of interviews. This is the truth, not the ivory tower speculations of those who write but have no actual experience. "One of the top five books every job seeker should read," says Hotjobs.com.
I Am Number 4 (7/10)
by Tony Medley
Run time 105 Minutes
OK for teenagers
John (Alex Pettyfer) is an alien from a far-off planet disguised as a high school student. He lives with Henri (Timothy Olyphant), who pretends to be his father but is really his protector and mentor. John is one of at least six people from his planet who are being pursued by Mogandorians, bad people from his planet, led by Kevin Durand, the Mogandorian Commander, who want to kill them all.
The Mogandorians have been successful with the first three. Now they are after John. John and Henri keep moving around and finally land in Ohio, where John enrolls in the local high school, where John falls for Sarah (Dianna Agron), another high school student. Before all the action, the film sets up sort of like a male Mean Girls. John befriends Sam (Callan McAuliffe), the little guy who is always picked on by the bullies, led by Mark (Jake Abel), who also is Sarah's ex-boyfriend who dumped her but still pursues her.
Directed by P.J. Caruso, written by Alfred Gough, Miles Millar, and Marti Noxon, based on the novel by Jobie Hughes and James Frey this is an action-packed, special effects-laden film with terrific pace by Caruso, who previously directed two films I liked a lot, Eagle Eye (2008) and Disturbia (2007). This one is as entertaining as those. Unlike the Twilight series that is also aimed primarily at 13-year-old females and has brought vacuity to an even lower level than one would expect, this can appeal to a wide audience, including adults.