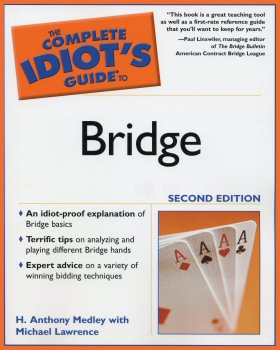 The first edition of Complete Idiot's Guide to Bridge by H. Anthony Medley was the fastest selling beginning bridge book, going through more than 10 printings. This updated Second Edition includes some modern advanced bidding systems and conventions, like Two over One, a system used by many modern tournament players, Roman Key Card Blackwood, New Minor Forcing, Reverse Drury, Forcing No Trump, and others. Also included is a detailed Guide to Bids and Responses, along with the most detailed, 12-page Glossary ever published, as well as examples to make learning the game even easier. Click book to order.
Who Do You Love (5/10)
by Tony Medley
Run time 92 minutes.
Not for children.
I guess it's whistling Dixie to hope that Hollywood will ever make a warts and all biopic of an entertainer. "Ray" (2004) ignored the serial infidelities and gross drug use of Ray Charles, although, to give it credit, it did have Jamie Foxx lip sync to Charles' unusual voice. "Walk the Line," probably the poster child for a lost opportunity, not only had non-singer Joaquin Phoenix use his own putrid voice instead of Johnny Cash's (at Phoenix's insistence), it also ignored the horrible way Cash dumped his loyal wife and mother of his children for another woman, and gave short shrift to his drug addictions and his serial infidelities. Those are only two of a myriad of biopics that paint seriously flawed "stars" as just wonderful people.
"Cadillac Records" (2008) was the first of two biopics of the Chess brothers, Leonard (Alessandro Nivola) and Phil (Jon Abrahams), who were catalysts for bringing the black music of the blues into the mainstream. It ignored the way the Chess brothers took advantage of the poor, uneducated, but highly talented black entertainers they shepherded, like Muddy Waters, keeping most of the money for themselves.
I was hoping that this would show more of their warts, but it was not to be. Not only that, but how can you make a biopic of the Chess brothers and not even mention the name of the legendary Chuck Berry ("Rock and Roll Music," "School Days," "Sweet Little Sixteen," "Johnny B. Goode," to name just a few of the hundreds of songs he wrote and sang, in addition to his famous duckwalk)? But that's what director Jerry Zaks has done here. I have to assume that Zaks had some problem with copyright and permissions because Etta James, whose rendition of "At Last" is a classic, doesn't make an appearance, either. In fact, James didn't hide her disgust that Beyoncé, an executive producer of "Cadillac Records" used her voice in singing "At Last," instead of lip syncing to James' voice. Leonard Chess's multiple adulteries of his wife, Revetta (Marika Dominczyk) are comprised in one composite fictional character, Ivy Mills (Megalyn Ann Echikunwoke), who is shown with a beautiful voice, a willingness to sleep with Leonard, and a drug addict.
There are so many reasons why this is a disappointment. Like "Walk the Line," it ignores the wonderful music that the Chess brothers were responsible for bringing to the public. Most biopics of musicians present the opportunity for a good story and a concert of great music. "Ray" fulfilled that promise. "Walk the Line" didn't, and neither does "Who Do You Love."
April 11, 2010