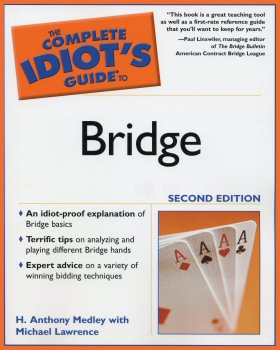 The first edition of Complete Idiot's Guide to Bridge by H. Anthony Medley was the fastest selling beginning bridge book, going through more than 10 printings. This updated Second Edition includes some modern advanced bidding systems and conventions, like Two over One, a system used by many modern tournament players, Roman Key Card Blackwood, New Minor Forcing, Reverse Drury, Forcing No Trump, and others. Also included is a detailed Guide to Bids and Responses, along with the most detailed, 12-page Glossary ever published, as well as examples to make learning the game even easier. Click book to order.
Thumbnails December 2010
by Tony Medley
Unstoppable (10/10): Highlighted by astounding action scenes without even one second of CGI (Computer Generated Imagery) and mind-blowing audio by Bill Kaplan, Tony Scott directs Denzell Washington and Chris Pine in brilliant performances in a tense, exciting story about a runaway train in Pennsylvania based on fact.
The Next Three Days (10/10): Written and directed by multiple Oscar®-winner Paul Haggis, this is the same quality as Unstoppable, aided immeasurably by Danny Elfman's score which keeps the tension mounting throughout. Based on the French thriller Pour Elle, Russell Crowe gives his usual stellar performance, and once again Elizabeth Banks shines, even though most of the movie is about Crowe's efforts to spring her, his wife, from an unjust life term in prison. She is a better actress than she is beautiful, and that's saying a lot.
Morning Glory (9/10): Rachel McAdams takes firm hold of her place on the A List with a sparkling performance in this romantic comedy brilliantly directed by Brit Roger Michell. She is aided by comedic performances by curmudgeonly Harrison Ford and feisty Diane Keaton, the best performance Keaton has given since The Godfather saga.
Client 9: The Rise and Fall of Eliot Spitzer (8/10): Just because you are paranoid doesn't mean that there isn't someone out to get you. So just because director Alex Gibney is much more a propagandist for his point of view rather than a documentarian doesn't mean that his point of view is wrong due to his bias. Even though burdened by a fatal case of hubris and leftwing bias, New York Attorney General Eliot Spitzer was way ahead of the curve in going after the avaricious megalomaniacs on Wall Street. But he made lots of powerful enemies. Gibney shows many of them. Two, Hank Greenberg of AIG and Ken Langone of Home Depot, were supercilious enough to agree to be interviewed by Gibney and they come across as insufferably arrogant if not evil, even if they did contribute to his ignominious fall from grace, so to speak. Gibney makes Spitzer shine, minimizing his many warts, and not without some justification.
Fair Game (7/10): Instead of a story in which actual persons, places, or events are depicted in fictional guise using fictional names, this uses real names and real people and fictionalizes them. As a political thriller, it's a rip-snorter. Director Doug Liman does a fine job of creating and maintaining tension, aided immeasurably by a stellar performance by Naomi Watts as Valerie Plame and a terrific score by John Powell. I tried to ignore the political bias of two leftwing filmmakers, Sean Penn as Plame's husband, Joe Wilson, and Liman, and enjoyed the film as a good fictional political thriller loosely based on fact with fine performances by Watts and Penn (although Sean still can't cry tears on cue). Despite the bias, knowing how dirty politics and politicians can be, it wouldn't surprise me if it were close to the truth.
Due Date (3/10): This distasteful film directed by Todd Philips contains smart performances by Robert Downey, Jr. and Zach Galifianakis, but goes over the edge that Philips' hit The Hangover fortunately avoided. The scenes created by Philips and Alan R. Cohen & Alan Freedland and Adam Sztykiel & Todd Philips (too many writing credits, never a good sign) defy credibility. With one absurdly contrived scene after another, one eventually just rolls his eyes and hopes for a quick ending. Philips throws in scenes of vomit and masturbation that constitute pleas for laughs based on shock value rather than talent.