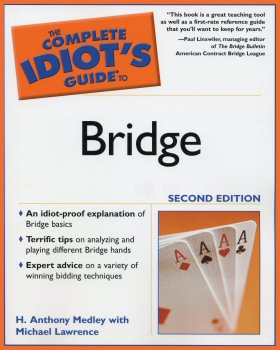 The first edition of Complete Idiot's Guide to Bridge by H. Anthony Medley was the fastest selling beginning bridge book, going through more than 10 printings. This updated Second Edition includes some modern advanced bidding systems and conventions, like Two over One, a system used by many modern tournament players, Roman Key Card Blackwood, New Minor Forcing, Reverse Drury, Forcing No Trump, and others. Also included is a detailed Guide to Bids and Responses, along with the most detailed, 12-page Glossary ever published, as well as examples to make learning the game even easier. Click book to order.
The Girl Who Played With Fire (10/10)
by Tony Medley
Run time 129 minutes.
Not for children.
This is the second in the trilogy of books written by the late Stieg Larsson about Lisbeth Salander (Noomi Rapace) and her investigative journalist friend, Mikael Blomqvist (Michael Nyqvist). When Larsson died in 2004, he left behind three unpublished manuscripts, which have been published one by one, the first in 2005. Each has been a phenomenal best seller. Iíve read two of them and they are spellbinding, the kind of book that keeps you awake at night.
The Girl Who Played With Fire takes up about a year after the conclusion of the first, The Girl With the Dragon Tattoo, with someone trying to kill Lisbeth. While not absolutely necessary, I think that in order for this to have the maximum appeal, one must have either seen the first, or read the first book. I say this because I took a friend to my screening after explaining in pretty stark terms what happened in the first. Even though some of the scenes from the first are replayed here as part of the setup, she was ambivalent about the film. Everyone else at the screening (at least the people with whom I spoke) thought it was terrific. But they had either seen the first, or read the book, or both.
This one has a different director than Dragon, with Daniel Alfredson taking over from Niels Arden Opley. The script had different writers, too, with Jonas Frykberg taking over from Nikolai Arcel and Rasmus Heisterberg. Although I liked the first film, I felt it didnít really live up to the excellence of the book. For one thing, it downplayed the violence played upon Lisbeth by one of the characters. I havenít read this book, so had nothing with which to compare the film. Perhaps as a result, I found this tense and compelling. Alfredson keeps the pace moving despite the run time.
In this one, two journalists who are close to exposing an extensive sex trafficking operation between Eastern Europe and Sweden are murdered. Lisbethís prints are on the murder weapon. Mikael is the only person convinced of Lisbethís innocence and sets out to prove it, an investigation that could implicate highly placed members of Swedish society, business, and government. Lisbeth has to take matters into her own hands, and capable hands they are. But this is why one should either read the first book or see the film because thatís the only way to really know what kind of a person Lisbeth is. Thatís not to say you canít enjoy this film without that knowledge, it just makes this film a lot more enjoyable if you know everything that came before.
Rapace does an outstanding job of creating a most unusual female protagonist, the bi sexual, tattooed, antisocial Lisbeth. Why she is the way she is, is explained again even if itís not on the detail one gleaned from an entire film or book.
Unfortunately, there is a graphic lesbian sex scene that was unnecessary. It would suffice to allude to the relationship, rather than to actually watch it be consummated on screen. But this is a Swedish film, after all.
I donít know if it was the print showed at the screening, but the color was faded or washed out. The subtitles, however, were excellent, never blending in. Despite the few flaws mentioned here, this is a highly entertaining thriller. In Swedish.