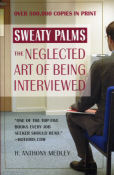 What REALLY goes on in a job interview? Find out in the new revision of "Sweaty Palms: The Neglected Art of Being Interviewed" (Warner Books) by Tony Medley, updated for the world of the Internet . Over 500,000 copies in print and the only book on the job interview written by an experienced interviewer, one who has conducted thousands of interviews. This is the truth, not the ivory tower speculations of those who write but have no actual experience. "One of the top five books every job seeker should read," says Hotjobs.com.
Letters to Juliet (8/10)
by Tony Medley
Runtime 105 minutes.
OK for children.
In 1962, schoolteacher Suzanne Pleshette runs off to Rome and meets architect student Troy Donahue and they cavort all around Italy in one of the better travelogues ever filmed. The syrupy love story entranced Troy and Suzanne so much that they married. I heard that Troy was so scared he jumped out of the window and they were soon divorced, but that could be apocryphal. Whatever, it's a movie that lives in my memory, so it must have had something.
That's what I was expecting when I went to see Amanda Seyfried in Letters to Juliet, and it is exactly what I got. Seyfried is no raving beauty, but she's got an admirable body and is proving to be a terrific actress, coming off a great performance in Chloe. She takes a pretty saccharine script (Jose Rivera and Tim Sullivan) here and gives a good performance in a trying role. Director Gary Winick, who has a spotty record, with the dismal Bride Wars (2009) to his credit, counterbalanced by the surprisingly good 13 Going on 30 (2004), recognized that this flimsy story isn't enough to satisfy an audience for almost two hours, so he throws in lots and lots of spectacular views of Italy, and that makes it all worthwhile.
The story is that unhappy lovers write letters in Verona to Juliet of Romeo and Juliet fame and pin them to the walls. Four women collect them after hours and answer them. Seyfried, a The New Yorker fact checker is in Verona with her fiancé, Gael García Bernal, and gets involved. She finds an old letter overlooked for a half century and answers it. Voila! The writer is Vanessa Redgrave, who jilted her summertime boyfriend when she was 15 in 1957. Vanessa comes to Verona and she and Amanda and Vanessa's grandson, Christopher Egan, who finds Amanda hard to tolerate, go in search of the man Vanessa jilted.
The script is developed so that Amanda and Vanessa and Christopher are looking for one man. There are 73 men in and around Verona with that same name, so this enables Winick to locate them in differing environs of Tuscany. Each name takes them to a different part and each journey includes wonderful scenery.
Even though the results are predictable, the story is well-told and romantic, and the scenery is to die for.