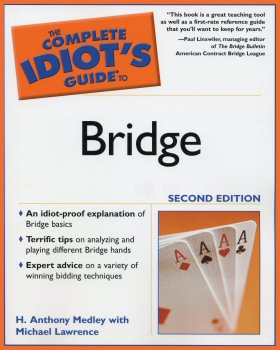 The first edition of Complete Idiot's Guide to Bridge by H. Anthony Medley was the fastest selling beginning bridge book, going through more than 10 printings. This updated Second Edition includes some modern advanced bidding systems and conventions, like Two over One, a system used by many modern tournament players, Roman Key Card Blackwood, New Minor Forcing, Reverse Drury, Forcing No Trump, and others. Also included is a detailed Guide to Bids and Responses, along with the most detailed, 12-page Glossary ever published, as well as examples to make learning the game even easier. Click book to order.
Up in the Air (9/10)
by Tony Medley
Run time 100 minutes.
Not for children.
George Clooney is no dummy. He finally figured out how to get in a really good movie (some people have liked stuff like the "Ocean's" films and he's been in a couple of others that have been OK, but one thing most will agree on is that he's a sex symbol for females, which puzzles lots of guys like me); sign on with Jason Reitman, the Oscar nominated director of "Juno" and "Thank You For Smoking," both of which should have been more highly rewarded.
In his newest, Reitman not only directed, but wrote the screenplay (with Sheldon Turner), very loosely based on the novel by Walter Kim. This is the odyssey of Ryan Bingham (Clooney), in a fictional position invented by Kim to tell the story of corporate people whose entire life is jet travel. The position is a person who is hired specifically for the purpose of firing people. The job is ludicrous, but in the context of this film, it works.
After years of staying happily airborne, flitting from one firing job to another, keeping a one room apartment but living in hotel rooms most of the time, Ryan feels he's got life by the tail.
Then he falls for a devil-may-care fellow traveler, Alex Goran (Vera Farmiga, in a captivating performance) and starts a cross-country affair, even starting to think of, gasp, a commitment. But Ryan's boss, Craig Gregory (Jason Bateman), inspired by a young efficiency expert, Natalie Keener (Anna Kendrick), threatens to permanently call him in from the road. Faced with the terrifying prospect of being grounded Ryan begins to contemplate what life might be without airports and hotels. The result is a film that is both funny and dark, although of low moral tone.
While Clooney and Farmiga give excellent performances as a man who thinks he's got the life he wants and the woman who unintentionally steals his heart, most of the laughs go to Kendrick. She has a face and eyes that reveal her emotions without her uttering a word. She had me laughing out loud. Reitman created the role with her in mind and he obviously knew what he was doing. Natalie is a young woman who appears to be as full of certitude about her view of life as is Ryan about his, but appearances can be deceiving and both are in for rude awakenings.
Unfortunately, Reitman succumbs to Hollywood voodoo when he inserts a young big-breasted body double for Vera Farmiga's nude scene. This scene is jarring for two reasons. First, the nude scene is entirely gratuitous. There is absolutely no reason for it to occur, other than to titillate. Then, he substitutes a babe with the body of an 18-year-old to appear as mid-30s Vera. The girl who strides to Ryan's bed naked as a jaybird has a body that a woman in her mid-30s only sees in her fantasies, not in her mirror. Of course we never get to see Alex's face when she is totally disrobed. If we did, it would reveal that Vera was undoubtedly in her trailer while this scene was being shot.
Although the film is full of product placements (Hilton Hotels and American Airlines stand out), it was surprisingly enjoyable.
December 3, 2009