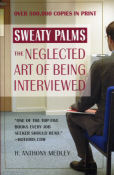 What REALLY goes on in a job interview? Find out in the new revision of "Sweaty Palms: The Neglected Art of Being Interviewed" (Warner Books) by Tony Medley, updated for the world of the Internet . Over 500,000 copies in print and the only book on the job interview written by an experienced interviewer, one who has conducted thousands of interviews. This is the truth, not the ivory tower speculations of those who write but have no actual experience. "One of the top five books every job seeker should read," says Hotjobs.com.
Definitely, Maybe (7/10)
by Tony Medley
Will Hayes (Ryan Reynolds) spends the entire movie telling his daughter, Maya (Abigail Breslin), about his pre marital search for a wife. He had three possibilities, Summer Hartley (Rachel Weisz), Emily (Elizabeth Banks), and April (Isla Fisher).
Writer-Director Adam Brooks has drawn his pretty simple story out so that it lasts just nine minutes under two hours, which will be too long for most men, but just about right for most women. Will is a pretty lucky guy, because he's got two of the most beautiful actresses in Hollywood from whom to choose in Banks and Fisher. I'm a big fan of Banks, but the person to whom this movie belongs is Fisher. She has the role that requires a wider range of emotions and she nails it. Reynolds does a good enough job of meandering through the film unable to make up his mind among his gorgeous choices. Breslin makes the most of the dialogue she's given as a little girl leading her father to make the right choice.
I must admit I'm disappointed in the route Banks' career seems to be taking. She had a good role in "Heights" (2004) where she was given a good script and the freedom to develop her character. Since then, though, the roles have been beautiful women virtually without character development, like "Invincible" (2006) and this one. She's beautiful, but nothing else is asked of her. She deserves roles that require her to be more than just a beautiful woman.
This film is burdened by yet another dismal trailer that makes it look sappy. I skipped the screening and only went to it in a theater because there was nothing else to see. I'm glad everything else was so uninviting because this is not a bad movie, even if it is far too long. While clearly aimed at women, many men could find it as entertainingly endurable as did I.
February 17, 2008