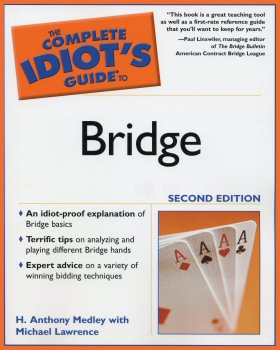 The first edition of Complete Idiot's Guide to Bridge by H. Anthony Medley was the fastest selling beginning bridge book, going through more than 10 printings. This updated Second Edition includes some modern advanced bidding systems and conventions, like Two over One, a system used by many modern tournament players, Roman Key Card Blackwood, New Minor Forcing, Reverse Drury, Forcing No Trump, and others. Also included is a detailed Guide to Bids and Responses, along with the most detailed, 12-page Glossary ever published, as well as examples to make learning the game even easier. Click book to order.
Body of Lies (8/10)
by Tony Medley
Run Time: 128 minutes.
Like most films directed by Ridley Scott, this is an action-packed, high tension, well paced thriller starring two of the best actors extant, Russell Crowe and Leonardo DiCaprio, with a screenplay by William Monahan, who wrote "the Departed," based on the novel by Washington Post columnist David Ignatius.
DiCaprio plays CIA operative Roger Ferris, who is trying to lure a terrorist leader, Al-Saleem (Alon Aboutboul), out of hiding to capture him. Roger is being run by his superior, Ed Hoffman (Crowe), who communicates with Roger mostly via cell phone.
As usual with a Scott film, the cinematography (Alexander Witt) and production design (Arthur Max), and editing (Pietro Scalia) are nothing short of spectacular. They combine to keep the tension rising despite the more-than-two-hour run time.
In order to fulfill Roger's Machiavellian plan, he needs to work closely with Jordanian General Intelligence Chief, Hani Salaam (Mark Strong), who tells him at their first meeting, "I have one rule. Never lie to me." Well, guess what?
Poor Roger really gets put through the mill in this film, which contains grizzly scenes of torture, not for the faint of heart. But DiCaprio, Crowe, and Strong contribute wonderful performances. DiCaprio claims to have learned how to speak Farsi for the role. Far be it from me to doubt this. It sounds authentic, but what would I know? All he'd have to do is talk like they used to talk on "Your Show of Shows with Sid Caesar," and it would sound like Farsi to me. He also claimed to have worked months to perfect his accent for "Blood Diamond," and that I believe because that performance ranks with the best.
Weakened by a too-long running time and a Hollywood ending straight out of a John Ford western, this is also burdened by an almost totally uninvolving love interest between Roger and a Jordanian-Iranian nurse, Aisha (Golshifteh Farahani). I guess they had to have her as a plot device, but the romance negatively affects the building tension and pace of the film.
Still, all in all, this is an interesting film that is high energy. It would take a rare person, indeed, to fall asleep.
October 8, 2008