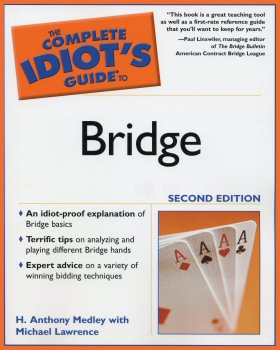 The first edition of Complete Idiot's Guide to Bridge by H. Anthony Medley was the fastest selling beginning bridge book, going through more than 10 printings. This updated Second Edition includes some modern advanced bidding systems and conventions, like Two over One, a system used by many modern tournament players, Roman Key Card Blackwood, New Minor Forcing, Reverse Drury, Forcing No Trump, and others. Also included is a detailed Guide to Bids and Responses, along with the most detailed, 12-page Glossary ever published, as well as examples to make learning the game even easier.
Mr. Untouchable (5/10)
by Tony Medley
This is a lackluster documentary about Nicky Barnes, a junkie who turned into the most powerful black drug kingpin in New York City. Producer-director Marc Levin has concentrated on interviewing the principals, including Barnes himself, instead of documenting the brutality of Barnes' reign. He lionizes this creep and basically ignores the damage that his distribution of drugs did to society and the many brutal murders he ordered.
Instead we basically see a bunch of talking heads and archival photographs. We see the same couple of pictures of Barnes over and over and over again. When Barnes is interviewed, his face is obscured because this monster is in the Witness Protection Program, since he ratted out his friends. But he didn't do it out of any sense of obligation, or any change of life. No, he did it because he thought his girlfriend, Thelma Grant (who called herself Mrs. Nicky Barnes, even though they apparently never married) was cheating on him with one of his lieutenants. In fact, according to her, she only left him because she found out he had a girlfriend on the side and she felt betrayed.
I was amused, however, by the twisting of facts in a minor point by Robert Fiske, Jr., who was U.S. Attorney for the Southern District of New York in 1977 when Jimmy Carter saw an article in the New York Times entitled "Mr. Untouchable" about Barnes. Carter said it was a disgrace and he wanted Barnes put in jail. Fiske was in charge. But in one of his comments to the filmmakers, he made the point that when Barnes was convicted, the headline the next day wasn't about Barnes finally going to jail. Instead, the headlines shouted about the New York Yankees Reggie Jackson "hitting a home run to win the seventh game of the World Series." In fact, the 1977 World Series was won by the Yankees in six games over the Los Angeles Dodgers, and Jackson's "home run" didn't win the game. He actually hit three in the game, which the Yankees won 8-4. His last home run, a 500-foot shot off of Charlie Hough in the 8th inning, was just icing on the cake. I don't cut Fiske any slack on this because I know how lawyers, especially trial lawyers, think. "Winning the seventh game of the World Series" sounds a lot better than winning the sixth game, so Fiske used some lawyerly manipulation of the facts to make his point sound much better.
This film interviews almost everyone still alive who was involved, including Louie Diaz a DEA undercover agent, Robert Geronimo, a DEA informant, Jazz Hayden, 'Scrap' Batts, and Frank James, all members of Barnes' organization upon whom Barnes ratted. Also interviewed is a cocky lawyer, David Breithart, who is proud of the fact that he got Barnes off in several state trials, never thinking about the harm his client did to society.
There are many more people interviewed, which might give the film verisimilitude, but makes for pretty slow viewing. This was 92 draggy minutes that gave my watch a pretty good workout.