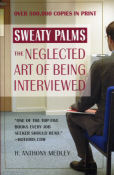 What REALLY goes on in a job interview? Find out in the new revision of "Sweaty Palms: The Neglected Art of Being Interviewed" (Warner Books) by Tony Medley, updated for the world of the Internet . Over 500,000 copies in print and the only book on the job interview written by an experienced interviewer, one who has conducted thousands of interviews. This is the truth, not the ivory tower speculations of those who write but have no actual experience. "One of the top five books every job seeker should read," says Hotjobs.com.
Most Enjoyable & Most Disappointing of 2006
by Tony Medley
Here's my list of the most enjoyable and least enjoyable/most disappointing/most overrated films I saw during 2006. The negative category includes some films that, while not the worst, were disappointing or overrated, or, while enjoyable, had huge flaws.
Most Enjoyable:
Blood Diamond: Leonardo DiCaprio joins the ranks of Bogey and Newman as screen anti-hero icons.
Apocalypto: This tension-filled, gory chase movie recreates what it must have been like in the 15th Century America rainforest as the Mayan Civilization was dying.
Babel: Brilliant, but it takes patience.
Little Children: Even after 2 hours, 17 minutes, I can't get enough of Kate Winslet.
United 93: Director Paul Greengrass wins the battle with Oliver Stone of 9/11 movies hands down.
Nannie McPhee: The most underrated film of the year.
Thank You For Smoking: This was a good year for films when this isn't the best.
Notes on a Scandal: When Cate Blanchett drops those horrible accents, she can act up a storm.
Flyboys: Tony Bill makes one of the best war movies ever.
The Devil Wears Prada: Emily Blunt tops a terrific Meryl Streep in a great entertainment.
Invincible: With spectacular performances by Greg Kinnear and Mark Wahlberg, sports movies don't get much better.
The Nativity Story: A

faithful rendition of the story of the birth of Jesus without being too gushingly devout, with the best Mary (

Keisha Castle-Hughes) ever seen on film

.

Man of the Year: Robin Williams finally makes a good movie, only to have it ignored because of dismal promotion.
Somersault: Abbie Cornish au naturel, but this film has much more.
Hard Candy: A compelling tale of a sexual predator who gets his comeuppance, you should pardon the expression.
Stranger Than Fiction: Will Ferrell finally drops his buffoonery in this Kafkaesque adventure, highlighted by the performances of Ferrell and Emma Thompson.
Tsotsi: A realistic rendition of life as we don't know it that held me in its grasp.
Heart of the Game: A documentary about girls' high school basketball? You gotta see it to appreciate it!
Déjà Vu: Not "The Final Countdown," but still a terrific time warper.
Basic Instinct 2: So bad it is entertaining; with a performance by Sharon Stone that rivals anything in 1936's "Reefer Madness."
Most Disappointing:
Borat: You'll never go broke underestimating the taste of the American public.
The Da Vinci Code: Director Ron

Howard did a wonderful job of capturing the spirit of the book by producing a slow, boring, factually absurd movie.

Letters From Iwo Jima: So the brutal soldiers of imperial Japan were just nice young guys like our marines, eh? What is Clint Eastwood's next excursion into moral equivalence, a film showing Hitler as a normal guy, no different from Churchill and Roosevelt, because he wrote a letter that indicated that he loved his dog?
The Good German: The Bad Movie.
Talladega Nights: The Ballad of Ricky Bobby: Hard to believe there were four movies worse than this Will Ferrell debacle.
Pirates of the Caribbean: Dead Man's Chest: Is it over yet?
Glory Road: If you wait long enough, you, too, can create a legend where one didn't exist.
Bobby: Since this is pure fiction, it might as well have been entitled "Dennis."
Infamous: Enough, already!
Annapolis: Sitting through this bomb, one realizes why the Naval Academy refused to cooperate.
The Night Listener & RV: Robin Williams strikes out again and again.
Click: Good idea; terrible translation.
The Pink Panther: Like Diogenes' fruitless search for one honest man, Steve Martin is still searching for one good script.
Marie Antoinette: Sofia Coppola proves she really can make a movie slower and more boring than "Lost in Translation."
Hollywoodland: Fails in every possible category.
Scoop: How long can Woody Allen get all these A-list people to work for scale with such inferior material?
Sir, No Sir: Most soldiers in every war don't want to fight. Not all of them whine with the success these people had.
All the King's Men: Any film with Sean ("Look, Ma; I'm acting!") Penn has an unfair advantage in competing for least enjoyable category.
Shadowboxer & Ask the Dust: Don't people like Cuba Gooding, Jr. and Colin Ferrell read these scripts before they sign on?
Hoot: Nobody gave one for this inane story.